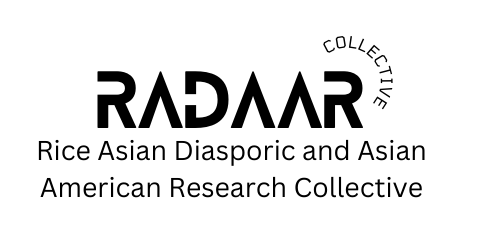 Who We Are
The Rice Asian Diasporic and Asian American Research (RADAAR) Collective carves out a space that facilitates interdisciplinary study, scholarly exchange, and community partnerships at and beyond Rice on issues, experiences, and histories of racialized Asian/diasporic populations. By "diasporic," we purposefully recognize the tension inherent in the term "Asian American" that so often essentializes and homogenizes diverse groups of people, despite its roots of political solidarity. Transnational and transhistorical in scope, RADAAR centers the voices of people and movements situated in realities of white supremacy, capitalism, imperialism, and extraction.
In light of our purpose statement, our goals include:
Creating a hub that brings together people who are involved in and/or are interested in learning more about Asian Diasporic and Asian American studies
Graduate and undergraduate community building from all disciplines and research interests
Consciousness raising and education about Asian American Studies and Asian American political organizing
Building relationships and partnerships with community organizations
Building a space that shifts according to the needs of participants, and that is governed collectively
What We Do
RADAAR hosts social events, reading groups, work-in-progress sessions, and speaker events. We also hold monthly meetings where members collectively plan for the academic year. Our monthly meetings are open to all undergraduates and graduate students, and our public events are open to all members of the Rice and greater Houston community.
Get Involved
RADAAR is open to all undergraduate and graduate students at Rice University. To hear about our meetings and events, please subscribe to our mailing list here: RADAAR Info Page (rice.edu)
We welcome faculty members as advisors and mentors. If you are a faculty member and interested in mentoring students, please do not hesitate to reach out to us - we would love to connect you with our students!
Contact
If you have any questions or comments, please contact Zainab Abdali at za10@rice.edu.